Lindapter
For more than 75 years, Lindapter has earned a respected reputation
as the inventor and pioneer of steelwork clamping systems, providing
an independently approved and exclusive product range of steelwork
fixings, cavity fixings, decking fixings, support fixings and
floor fixings.
80 years pioneering steelwork connections

Lindapter celebrates 80 years pioneering the design and manufacture of steelwork connection solutions and continues to follow the legacy set by founder Henry Lindsay to produce the highest quality steelwork fixings and customer experience.
Lindapter specialises in innovative clamping systems that eliminate the need to drill or weld steelwork, enabling rapid steel construction and low labour costs. The vast product range has diversified from the original 1934 invention of the malleable iron hook-bolt adapter, or 'Lindsay Adapter' and the combination of the two words explains the formation of the now famous brand name.
Steelwork Fixings
Lindapter stainless steel or hot dip galvanised fixings are perfectly suited to withstand the harsh environmental forces found on offshore platforms. Applications include helideck, blastwall and deck expansion installations, whilst onshore suitability equally includes pipe support and flooring. As onsite drilling or welding is avoided, hot work permits are not required enabling both a safe and efficient installation with minimum interruption to productivity.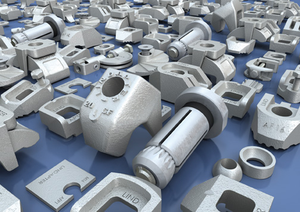 Lindapter launch 'all-in-one' steelwork clamp
Lindapter, the inventor of the Girder Clamp and Hollo-Bolt has developed the Type AAF, a new steelwork clamp for connecting steel sections, offering adjustability, anti-corrosion protection and high load capacities, even in low temperature environments.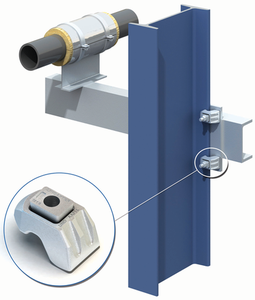 Lindapter Steelwork Clamps and DTI Washers
Renowned for developing innovative connection systems that eliminate the need to drill or weld steelwork, Lindapter continually carries out research to monitor construction industry standards and good practice. Lindapter recognises that, while it already publishes recommended tightening torque figures for the Type AF clamp when using HR and HV fasteners, some contractors are more familiar with DTIs as a method of indicating that correct preload has been achieved in the bolt. For guidance on the correct use of DTI washers, please refer to BS EN14399-9:2009 and DTI manufacturers' instructions.
The preload achieved using the DTIs is utilised by Lindapter's robust Type AF clamp to produce high slip resistance up to 35kN and tensile loading up to 62.5kN per bolt. The ultimate strength of the bolt assembly is the limiting factor for the Type AF's ultimate tensile performance.
The Type AF is available in sizes M12 to M24 and is supplied hot dip galvanised as standard.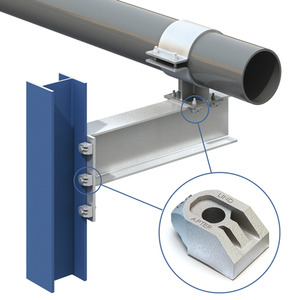 Hollo-Bolt HCF for Structural Connections

Lindapter has launched its High Clamping Force (HCF) Hollo-Bolt, an enhanced version of its original expansion bolt for SHS, optimised for structural connections.
The Hollo-Bolt HCF is available as standard in sizes M16 and M20 and features Lindapter's patented HCF mechanism that produces a typical clamping force three times higher than the same sized product without the mechanism. The increased clamping force results in a more secure connection.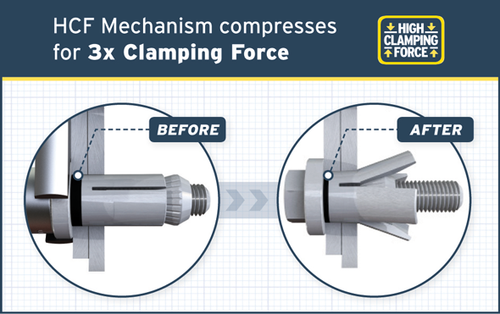 Working closely with structural engineers and steel fabricators, Lindapter identified the need for the larger M16 & M20 products to provide an increased clamping force that would be suitable for structural connections. Research and development led to the invention of the patented 5-part design, with an innovative washer that compresses during installation to significantly increase clamping force between the fixture and the hollow section. The superior performance minimises displacement (movement in the connection) at Safe Working Load for a more secure connection. The Hollo-Bolt HCF is designed to save steel contractors time and money and is exclusive to Lindapter.
The CE Marked fastener is recognised by the BCSA/SCI as a primary structural connection and is ideal for other safety critical applications such as securing steel canopies, roofs, glazing and cladding. The Hollo-Bolt offers a faster alternative to conventional SHS connection methods such as welding or through-bolting, enabling contractors to reduce construction time and labour costs.
Corrosion Protection
Lindapter products are delivered in standard bright zinc plated or hot dip galvanised. Various other coatings and alternative materials are upon request for most products including:
Sheradising
Mechanical galvanising
Plastic coating
Special paint coating
Delta seal
Delta tone
Sheraplex
Stainless steel