LOCTITE
All of the LOCTITE products are well-known for high reliability and
safety. They particularly help you to save time and reduce costs,
since down-time or failure of industrial parts can be reduced to a
minimum if maintained with LOCTITE products.
Threadlocking Adhesives
LOCTITE threadlocker is a reliable way to prevent the release or loosening of thread joints due to mechanical vibrations or environmental factors such as corrosion and temperature fluctuations. LOCTITE threadlocker is suitable for a range of applications.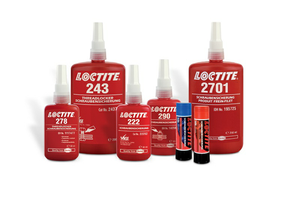 Thread Sealants
The LOCTITE products used for pipe sealing need to be particularly reliable in order to prevent the escape of gases and fluids.
Anyone who needs professional products to seal pipes, joints and other pipe sealing applications will find the perfect solution for every job and material with LOCTITE.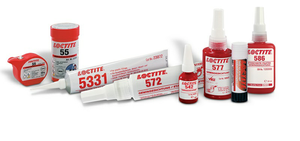 Gasketing Products
Gasketing is a sealant between two flanges assembled with screws. The sealant completely fills the space between the flange surfaces, thereby preventing the escape of gaseous or fluid materials in composite machine parts or pipe connections.
LOCTITE provides sealant products in a range of varieties for this specific application. Slow-curing connections are possible, as is high-strength or highly flexible anaerobic gasketing.
Retaining Compounds
LOCTITE Retaining Compounds secure bearings, bushes and cylindrical parts into housings or onto shafts. They achieve maximum load transmission capability and uniform stress distribution and eliminate fretting corrosion. Applied as a liquid, they form a 100% contact between mating metal surfaces, eliminating the need for expensive replacement parts, time consuming machining or the use of mechanical methods.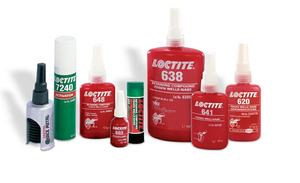 Structural Bonding – Acrylics, Polyurethanes & Epoxies
The LOCTITE range of Structural Bonding products offers a wide choice of solutions to meet the different requirements and conditions that apply to industrial design and construction.
Flexible Bonding and Sealing
LOCTITE light and moisture curing specialty flexible adhesive is a non-corrosive product to form a thermoset elastomer resulting in excellent durability for medical device uses. Due to its UV cure mechanism, this product enables fast fixturing which results in enhanced productivity. It is thixotropic and stays flexible at low temperatures. In addition, the product withstands repeated steam sterilisations.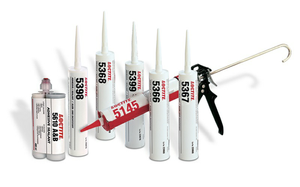 Metal-Filled Compounds
LOCTITE Metal-filled Compounds offer maintenance solutions to the problems caused by impingement and mechanical damage, including cracks in housings, worn keyways in shafts and collars, worn cylindrical shafts, etc.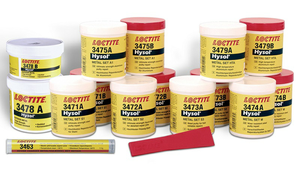 Cleaners
LOCTITE Cleaners and Degreasers are highly effective and are available in both aqueous and solvent based formulations. When choosing a cleaner or degreaser, the major factors to consider are drying time, residue, odour, and substrate compatibility.
Residue is a particularly important concern: if there is any secondary processing of the part, e.g. painting or bonding, a residue could interfere with that process.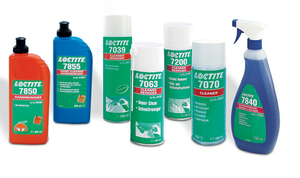 Lubricants
The typical function of a lubricant is to protect against friction and wear. Lubricants are also used to protect against corrosion by displacing moisture and leaving a continuous coating on the part.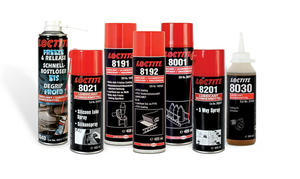 Emergency Repair Products
This range of products enables rapid repair of damaged or burst pipes, conveyor or drive belts and similar rubber-based components, will seal leaks in tanks and other containment vessels in addition to repairing metal parts and also includes a kit for repairing or replacing damaged O-ring seals and a gas leak detector.