Click here to view catalogue
Nord-Lock Wheel Nuts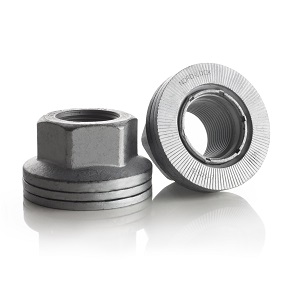 The NordLock® Wheel Nut safely secures wheels by maintaining high clamping force even under extreme operating conditions. This unique wedge-locking system offers the following advantages:

- Maximum safety
- Resists loosening caused by vibration and dynamic loads
- Ease of assembly and disassembly
- Locking function is not affected by lubrication
- Positive locking at low and high preload levels
- Controllable preload
- Reusable

The Nord-Lock® wheel nut is based on Nord-Lock's unique wedge-locking technology, which uses tension instead of friction to secure bolted joints. Each nut incorporates a pair of captivated washers with cam faces on one side, with a cam angle 'a' greater than the thread pitch 'ß'. On the opposite side there are radial teeth. When the nut is tightened, the teeth of the Nord-Lock washers grip and lock the mating surfaces, allowing movement only across the cam faces. Any rotation of the wheel nut is blocked by the wedge effect of the cams.
Option
Product Code
Manufacturer's Code
Price (GBP)
Price per
Available
Buy
Hover 'In stock' or 'Out of stock' in available column to find out more information
Option
Product Code
Manufacturer's Code
Price (GBP)
Price per
Available
Buy
M22 x 1.5mm
9003.0004.0010
1632
£5.51
1